Bienvenue sur le site réservé aux professionnels
Pour accéder à l'ensemble des informations connectez-vous avec vos identifiants personnels. Si vous ne les avez pas encore rendez-vous sur la page "contact"


Welcome to the website reserved for the professionals
To access all details please connect with your personal access codes. If you haven't yet please refer to the "contact" page
Composez votre propre grappe lumineuse
5 couleurs teintées dans la masse : turquoise, bleu, ambre, olive, vert, transparent
20 couleurs peintes
Toutes les combinaisons sont possibles bien qu'elles ne soient pas photographiées.
Les commandes de grappe personnalisée sont à faire par mail à : katrinj@lamaisondalep.com


Create your own grape light
5 colors dyed in the mass : turquoise, blue, amber, olive, green, clear
20 painted colors
Although it is not on the website any combination is possible.
Please place your order by e-mail : katrinj@lamaisondalep.com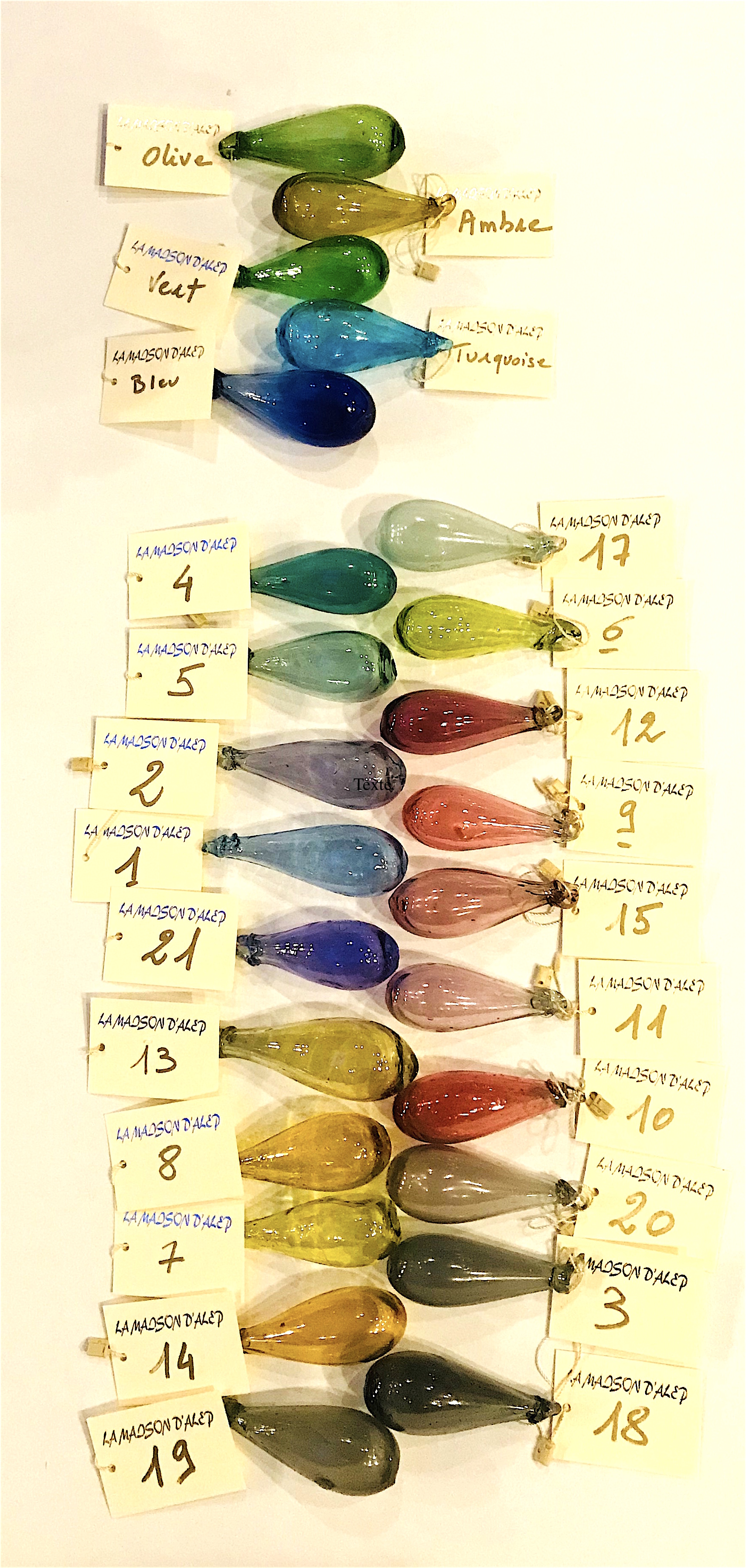 Information

Vous êtes nombreux à vous étonner que nos produits viennent encore de Syrie.
En effet le pays est en guerre depuis huit ans mais certaines villes ont été épargnées. C'est le cas de Damas où est traditionnellement fabriqué le verre soufflé.
Nous poursuivons donc notre collaboration avec les mêmes artisans, qui n'ont pas cessé leur activité malgré des difficultés de toutes sortes.
Nous avons aussi continué à leur rendre visite régulièrement pour passer nos commandes, discuter avec eux des possibilités de fabrication, les rencontrer tout simplement …
Comme lors des voyages précédents vous pourrez trouver sur la page Facebook de La Maison d'Alep (Verre Soufflé Maison d'Alep) des images du quotidien à Damas.
Ces photos ne sont que des instantanés d'une ville relativement préservée, en aucun cas représentatives de la guerre qui continue à déchirer le pays.
Merci pour votre attention

Une vidéo faite l'été dernier : la fabrication d'une goutte de verre
www.lamaisondalep.com/IMG_2413.MOV
Many of you wonder how our products can still manage to reach us from Syria.
Indeed Syria has been at war for 8 years now, but some places have been fortunate enough to make it through unscathed. One example is Damascus, where our mouth-blown glass originates from.
We continue to work with the same craftsmen, who keep on with their craft despite hardships of all sorts.
We make it a point to visit them in person on a regular basis, to pass our orders, discuss about manufacturing processes, and most importantly to keep in touch.
As usual during this trip I will post pictures of everyday life in Damascus on the Facebook page of La Maison d'Alep (Verre Soufflé Maison d'Alep). These photos usually show a city which is relatively preserved, their purpose is not to report on the war that is going on.
Thank you for reading this.

This is a link to a video filmed last summer about the making of a glass drop.
www.lamaisondalep.com/IMG_2413.MOV